The Pen Drive is a plug and play device, just simply plug into any USB port and the computer will automatically detect it as another removable drive.
Now you can read, write, copy, delete and move data from your hard disk drive to the Pen Drive or from the Pen Drive to your hard disk drive. You can even play MP3 files, run applications or view videos directly from the Pen Drive.
The Pen Drive comes in various storage capacities. 16MB, 32MB, 64MB,128MB, 256MB, 512MB, 1GB and more so now you don't have to carry a laptop computer with you to work.
The Pen Drive is compatible with Windows ME / Windows XP / Windows 2000 / Mac 8.6 or above / Linux 2.4.0 or above, without any device driver.

The Pen Drive is a removable hard disk drive with a USB connection.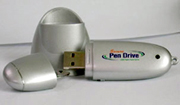 Pen Drive + Docking Station